https://www.youtube.com/watch?v=TslTF-PzpHU
It's free to set up, have a profile, search for and message other users. There are a few things that are optional extras that you would have to pay for, such as upgrading your profile to upload sixteen pictures instead of the free eight pictures you get to upload. Also upgrading your profile will make it stand out more to users, allow you to see when people viewed your profile, as well as put you to the top of the "Meet Me" feature. You can also see if messages that you have sent were read or deleted, and you can also experience the site free of ads. There's three options for you to choose from to upgrade. The first one being $81 for 12 months, the second one being $51 for six months, and the third one being $38.70 for three months.
The site has many features, such as the "Meet Me" section and the "Ultra Match" section. Using the "Meet Me" section allows you to browse through dozens and dozens of pictures of people you may be interested in, and you simply click yes or no as to whether or not you'd like to meet them. That user is then notified if you clicked yes on their picture. POF also uses an algorithm to compare your profile to many others, and delivering you a list of matches of people you may be interested in, which comes up in the "Ultra Match" section.


If you suspect you are not getting the results other guys are getting I highly recommend you check out David DeAngelos Double Your Dating
Much like Facebook or Instagram, you set up a personal page telling about yourself and your interests
, what you're looking for, and upload up to eight pictures for free. Be aware though, that there are some that will make fake accounts and try to talk to you or scam you, so if something appears too good to be true, it very well may be.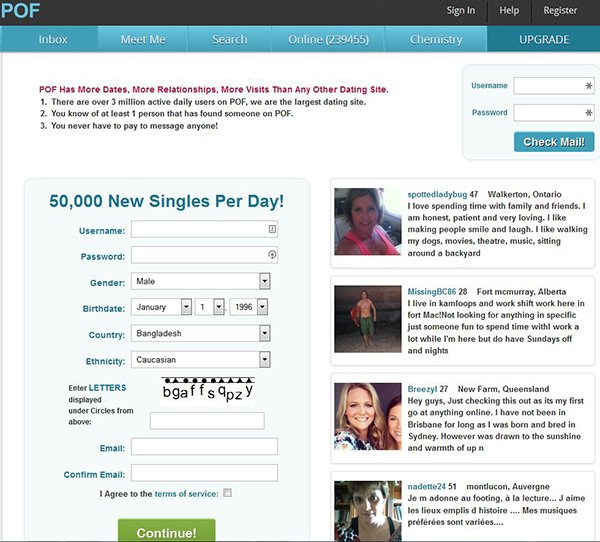 The pros of the website include of course the obvious one, it really is truly free (unless you really desire the upgraded features). Another pro is the zero tolerance policy regarding bad behavior and nudity, so most people show respect and are on their best behavior, or their account will get deleted. Other pros include the "Meet Me" and "Ultra Match" features as well as the section where you can view who looked at your profile. The only real con to the site is the few bad apples who have fake pages, and you can never really tell who they are, so it's best to avoid potential matches that appear too good to be true.
Based on their ease of access and diverse features, POF gets a rating of 4.5/5.