The site is specifically is for men who are successful and have the financial security and the confidence to get young beautiful single women, more so this is a site that offers advices pertaining dates and other relationship issues, sugardaddie.com also is a matured site which has received a number of positive reviews from the global media due to their devoted efforts to maintain high quality standards. As usual the first impression is always the last impression in that a number of visitors visiting the site are always impressed and most of them usually leave a positive comment about the site and the average review rating is 3.5 stars.
More so for one to be a member, you must be from , Australia, Canada, UK and the USA, and the members must be 21 years of age in order to join, there is also the free membership service whereby it allows a member to reply the messages and to upload up to three photos to his/her profile . The best thing about this site is that scammers are likely to be avoided whereby detailed descriptions about you is always required and also you are required to upload up to three photos for certainty and also applies a tough profile approval exercise.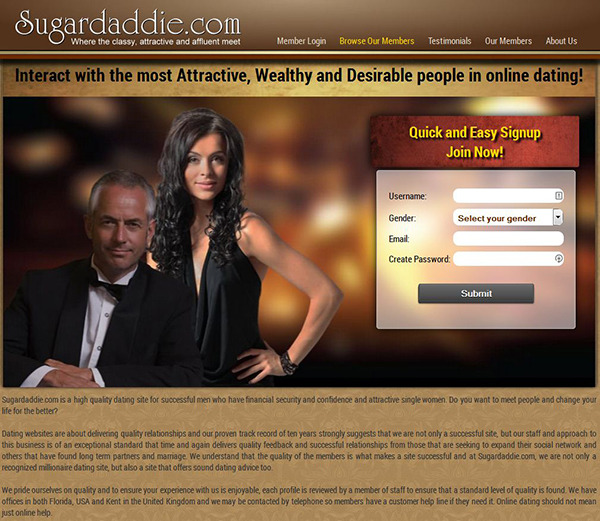 The site also offers two types of membership that is the standard and the premium membership whereby the standard is free membership but it has limited features and the premium membership is paid and the cost of membership is as follows in US dollars:
$6.93 per week
$24.99 per month
$47.97 for 3 months
$83.94 for 6 months
$119.98 for 12 months.
The membership fee is paid online, through the phone or by debit/credit card.
The site has a number of pros and this is shown by the quality service that is offered, here are some of the pros about the site:
It has a block member feature which is a very good safety feature if at all a member doesn't want contact with some members.
It offers one week membership at a very low cost.
Also membership is not auto-renewed.
High integrity is always maintained.
More so, there are very few cons about SugarDaddie.com and they are as follows:
The income is not verified in that one can lie so as to please the other party,

If you suspect you are not getting the results other guys are getting I highly recommend you check out David DeAngelos Double Your Dating
More so the site has some unique features from other dating sites whereby at the click of the button you will have to see whoever has placed you in their hotlist and also you will have the ability to search for new members, more so there is no automatic billing required.
Find Wealthy Men & Gorgeous Women. Join Sugardaddie.com.