The wealthy successful men in the site are usually experienced and well-travelled while the women who want to meet and get involved with them are attractive and ambitious. The site offers verification for these men's wealth status, and the verified members earn more views than those who are not verified.
Who Is The Site For?
The site serves to bring together millionaire men with women interested to meet them. while creating your profile, you are given options to determine your sexuality, whether straight or gay or whether you are bisexual. This helps attract you the right crowd. However, generally, the site is for rich men seeking to meet attractive women who are interested in building relationships with them, from dating, to long-term.1. Profile qualityProfiles on the WealthyMen.com site are for real.
Profiles are verified to ensure information given by the men is true. Truth and honesty is encouraged as it is what attracts the women to the site. The verification is especially geared to ensure the men registering in the sight are just as wealthy as they claim. This therefore requires that they provide supporting information that can be used to verify their wealth status, for example.A variety of ways to verify this is through documents like tax returns, back statements or valid photo IDs that the men will upload as back up evidence.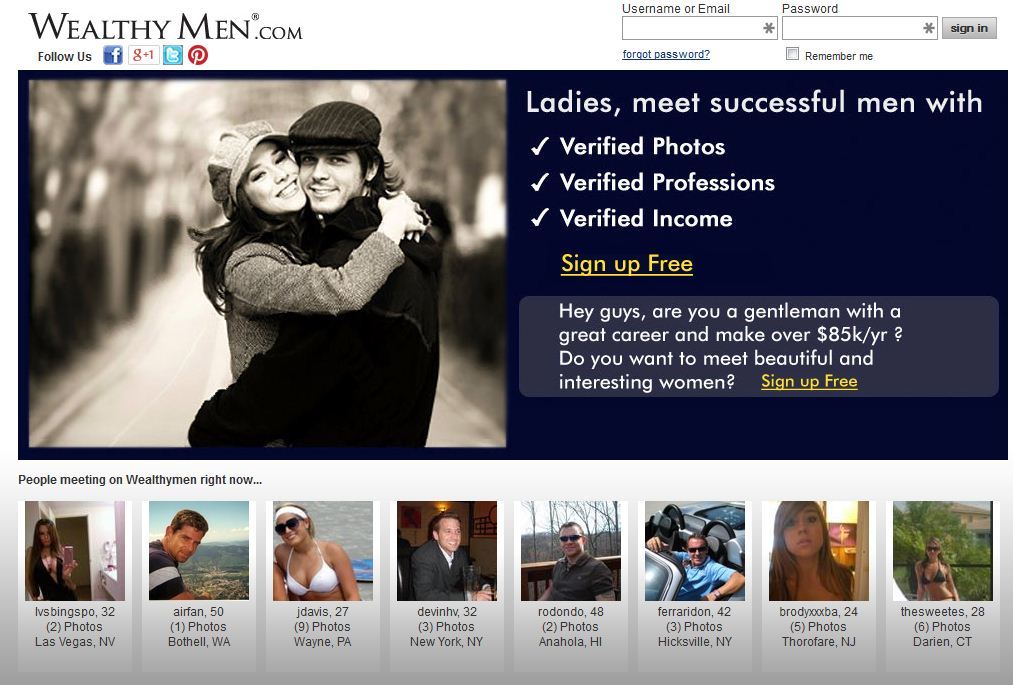 Users can be sure their information will keep their information secure and confident. Their personal photos should also be real and are checked thus, by using clear readable copies of their driving licenses. This is to maintain credibility of the dating site, and to save the users from disappointments and heartbreaks that could arise from taking it too far with someone who presents a fake image of themselves.
Membership Costs
At registration, there is free membership at first. One can the upgrade their initial membership Silver membership, which will cost $2.95 per month, or $49.95 for 3 months. Gold membership is $9.95 for 7 days, $34.95 per month or $59.95 for 3 months. Membership comes in two classes; the Silver membership, and the Gold membership. Registering on the Silver membership is free and will enable you access to all the benefits that come with free membership, which include the ability to view profiles and photos, chat, read and send messages.Rates in this membership include $2.95 per month, or $49.95 for three months.

If you suspect you are not getting the results other guys are getting I highly recommend you check out David DeAngelos Double Your Dating
The Gold membership on the other hand comes with all the benefits of silver membership, plus a A benefit of a topping of all listings and searches to enable your profile to be seen by even more members.You also get to email free members, who can also reply back.The membership allows you a seven-day trial at $9.95, and then $34.95 monthly.Both memberships come with a Three-Month Guarantee, within which period if you do not find your match, the site gives you an extra free 3 month period to access their services.Payment types and methods accepted in the site include phone, credit and debit cards.Rates for women who use the site are usually lower than that of the men.
Why Use WealthyMen.com
The site is unique in that it is one of the very few sites that employ profile verification on their male members in which they make sure the facts about their income, photos and professions are for real. This helps give the site validity and credibility, which in turn attracts more and more females to its sites.
Other Features
WealthyMen.com is not just on the web but also has an app. The WealthyMen app gives users a quality experience as it helps them meet their matches, enabling them to register to the site, search for members and communicate. The dating app is available on the Apple App Store.
Pros
It offers free trial on its features.Verifies information on the men.
Cons
The site does not offer features that suit wealthy women.