Who Is MillionaireMate.com For?
Millionairemate.com definitely is a site for singles looking for a wealthy other half, but there is nothing that says that the ones who are only looking for an affair or a innocent flirt cannot use the site. Just as long as they are wealthy there are little rules.
A Dating Site For Women:
if you are a woman you can be sure to get a guy who can take care of you and provide you with the luxurious lifestyle that you surely deserve. Millionairemate.com has a wealth verification system to ensure you are not fooled into dating inferior men. All the verified men on millionairemate.com are bonafied millionaires. They will shower you with gifts and provide you with all your diva heart desires.
This Is a Place For Men:
If you are a male looking for someone to share your riches with, this site should be your first choice. Here are lots of girls who's biggest fantasy is too hook up with a wealthy man. Should you want a girl to complement yourself, you also have a chance to find a classy lady just as successful as yourself. Imagine, together you two could achieve greatness.
Signing Up
when you are first to sign up you are met with a sleek and easy to maneuver black design. After you have pressed the golden "sign me up" button you are asked to fill in your details. They want to know if you're interested in meeting a man or a woman, if you're looking for serious relationship, marriage, dating or only friendship. Finally there's the ordinary stuff like where you live, your email address and the username. Then there's the next page where you get express yourself you get to fill in if you're married, your race, religion and finally the info most critical to this dating site: your income.

If you suspect you are not getting the results other guys are getting I highly recommend you check out David DeAngelos Double Your Dating
Finally, it says that the membership is free and "your password will be emailed to you", This is why it's important you provide an authentic email address in the previous steps. It gives you the ability to change it in case you got it wrong, a step that I find great. It's really annoying at times when you get to a password or confirmation email page and it doesn't give you the opportunity to change a faulty email, forcing you to start the registration all over again.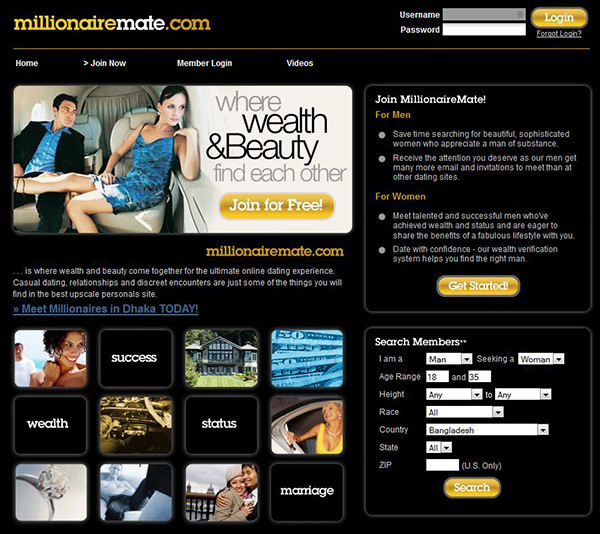 Once you're in, it wants you to become verified by uploading a photo, and not only a photo millionairemate.com wants an ID as well! It doesn't stop there thou, they want you to mail or fax in a bank statement showing that you have a minimum of hundred thousand dollars or more in your account. This step is not compulsory thou, and I can easily click past it and keep being unverified.
Inside MillionaireMate.com
Once logged in you can start doing what your there for, aka searching for sexy singles. The search feature is nice and function rich. You can find other members near you, see new members, popular members, see who's online and so on. This site is only for online use, I can't see that it has any kind of API at the time.
With the free account its possible to list the members and see general information about them. You can fan over their cover photos and when hovering over their image, some of their traits can be seen.
But then of course you can't contact anyone with a free account and neither can you get into the profiles . As soon as the click on the profile photos is made millionairemate.com want you to upgrade to a paid account.
You can chose between a gold or a silver membership. The silver can be yours for $35 a month and the gold membership is $57 a month. Right now there's a special offer where you get one month for free if you buy three months of gold membership.
All the profiles look real and then it's pretty inspiring to see that this site has a very strict verification system to both verify your identity and your actual income. So we know that what we see is what we get. This is a nice feature compared to other similar dating sites where people make profiles that really don't represent themselves. They paint up this glorious picture of who they are what they own and then the truth is not quite so fabulous at all.
Overall this is a nice website and it fills its purpose perfectly. The concept is exiting I mean who wouldn't want a rich girlfriend or boyfriend? I give millionairemate.com a 4 out of 5 star rating.