Seeking Millionaire is for two kinds of people , one with wealth and one with charms. Most cases you would expect for what you want and not what you have. So the pairing is easy to happen on this logic. The site is for people of all sexual orientation including straight , gay and bisexual. The site is open to people all over the world and people with every marital status. Married people who are still looking also gets a ticket to roll with this site. Most of the users of this site are satisfied with the service provided . The profiles are mostly real considering only serious people try their luck here. The basic perks on this site are free of cost but a lot of features are made exclusive for members alone.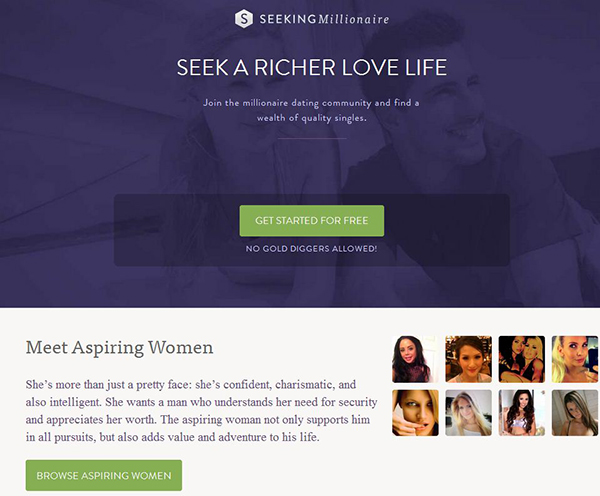 Membership charges are 60 USD a month for standard membership and 210 USD for platinum verified membership. Platinum verified members are promised with increased profile visibility and would receive ten times more messages when they stay subscribed. Accounts are of two types one for wealthy user and other one for attractive user. Both categories have different types of perks provided which suits them. For Instance Platinum membership for attractive user would mean they get listed as featured members, on the other hand the same account type for wealthy user would mean he/she got the ability to message and wink.


If you suspect you are not getting the results other guys are getting I highly recommend you check out David DeAngelos Double Your Dating
The positives of this site are concrete concept , suitable features to get people to connect , easy registration and good technical support. The concept of categorizing people according to wealth and attractiveness levels is a good concept . Its quite clear and straight to the point. All the necessary features such a message box, who saw my profile and many more are present. Registering in Seeking Millionaire is so simple with good help and support department. Few cons would be overpriced membership and low chances of getting a date for people who aren't categorized wealthy. Taking away their messaging is little unfair on attractive members , when they have paid for complete membership. One thing I found unique about this site was categorizing members with what they want and allowing everyone irrespective of demographics , sexual orientation and marital status. On the whole I would give Seeking millionaire three stars out of five considering the few negatives.